Upwork How To Get Paid
The main reason for freelancing is to make money.  Doing work on Upwork is no different.  As you get started, a common question is how to get paid on Upwork.   One of the benefits of Upwork is being able to serve clients from around the world, from almost anywhere in the world.  One challenge is that you will want to know how to get paid on Upwork from where you will be working.  This does vary somewhat depending on where you live and bank.
If you are working on Upwork abroad, you need to conduct research or you might have to pay a lot of fees simply to withdraw your earnings. There are specific steps you can take to ensure you receive your money with as few fees as possible.
We are going to look at some of your options, depending on where you are working from and how you are trying to get paid.
Selecting Your Payment Contract Type
You have two basic choices on how to get paid on Upwork. First, when you apply for a job, the employer generally offers a specific type of payment strategy. This is usually per project or hourly. Hourly is easy.  You do the work and log the hours and you get paid.
When you get paid by project, the client will either way you at the end of the project or, usually for a larger project, they will pay you as you complete different phases of the project, called milestones.
The basis is a weekly billing cycle. If you are a freelancer and choose a job with an hourly contract, you should download the Upwork desktop app to enable you to keep your time log.  The nice thing about doing it this way is that you can be sure that your time is properly tracked.  If you meet certain requirements, Upwork also guarantees your payment. 
To take advantage of Upwork's hourly protection, you need to meet certain requirements. You want to keep this in mind.  Here's what you need to meet to ensure you get protected by Upwork's guarantee:
Have an Hourly contract – obviously they aren't going to protect your hourly pay for a milestone based project.
Work with a client with a verified billing method – The client needs to have provided a payment method.  You can see this when you bid on a project.  For a project you already have, go to My Jobs (at the top), select the contract, Terms and Settings and then click View Original Job Posting.  It will show a badge like the one below if the client has a verified payment method (e.g. they have a credit card on file.)
Use an Upwork account in good standing
Log your hours with the Upwork Desktop App – Some clients will let you log time manually.  The app tracks a number of things, including taking screenshots and what you're looking at.  It can be a bit intrusive that way but having this information helps Upwork to defend that you did the work.
Be visibly working on contract-related activity in your Work Diary
Annotate your Work Diary with memos or activities labels that describe the activity performed
Maintain adequate and fair activity levels – You have to actually be working.
Stay within the contract's weekly limit – Each contract has a weekly limit (often ten hours, depending on the kind of work you're doing.)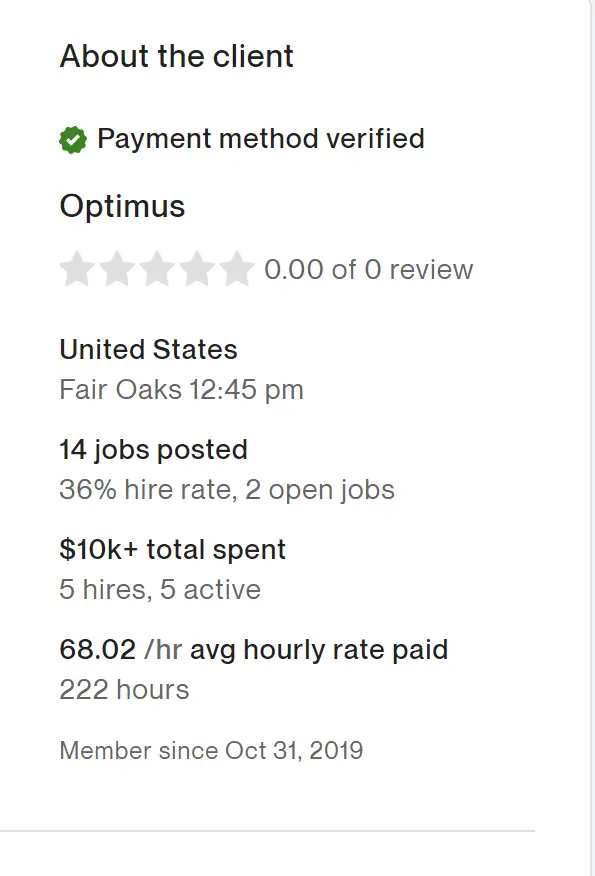 Your schedule will be used by the client for automatic invoices. Hourly contracts have a billing period starting on Monday and concluding on Sunday. Your money becomes available the following Wednesday which is 10 days later. The billing period is your first week when you are keeping a time log. Your client uses the second week to review your work until your funds are available.
Adding Your Payment Method to Get Paid on Upwork
You must select your chosen payment method before your earnings can be withdrawn. Your payments must be arranged directly if you decide to work under an agency. If you want to receive your payments in United States dollars, you must have a United States bank account. In this instance, the following options are available.
Direct to a Bank Located in the United States
You can select an Automated Clearing House (ACH) payment enabling you to withdraw your funds at no charge. Since this method requires additional time, you will need to allow between two and five working days to receive your money from when Upwork initiates the transfer.  This tends to be seamless.
Direct to a Local Bank
You will receive this type of transfer either on the same day or within four working days. You will be charged $0.99 per transfer.
United States Dollar Transfer
You will need to wait 24 hours for your funds to arrive. Your charge per transfer is $30.
Immediate Pay for United States Freelancers
You are only eligible for this type of transfer if you are currently living in the United States and have linked either a Mastercard or Visa debit card to your bank account. You need to make certain your bank accepts this type of transfer. Your charge is $2 per transfer.
If you prefer to receive your funds in a different currency, your best option is to choose a service accepted by Upwork offering multi-currency functionality. This will help to eliminate the steep mark-up for exchange rates. Depending on the service you select, any of the following can be applicable.
• Upwork can charge a small transaction fee with both a minimum and maximum amount
• Your transfer can be immediate or require as long as two business days
• You can be charged a one percent fee from the service
• You are required to have your name on any account prior to making a withdrawal
Setting Up Your Upwork Payment Method
Begin by opening the Upwork settings tab and selecting Get Paid. Now click on Add Method. Select the method you prefer, and click on Set Up. Enter all of the information requested. Select the payment schedule you prefer, then click on Next. You have now added a new payment method. You will need to wait three days for your new method to become active.
Payments Schedules for Upwork How To Get Paid
After you have set up your preferred payment method, your funds will be automatically distributed according to the payment schedule you selected. Your payment schedule can be changed or updated at any time by going to settings and selecting Get Paid. You can choose from four different payment schedules.
Quarterly:
You will be paid on the last Monday of every quarter.
Monthly:
You will be paid on the last Wednesday of every month.
Bi-Weekly:
You will be paid on the first and third Wednesday of every month.
Weekly:
You will be paid every Wednesday.
In order to receive automatic disbursements, you must set a withdrawal limit. You will not receive your funds unless your balance reaches your limit. If your automatic withdrawal limits need to be adjusted, go to the Edit Schedule and your Get Paid settings to make changes.
Manually Withdrawing Earnings
If you are new to Upwork and do not want to be restricted by a minimum withdrawal amount, you can choose the manual option. You can use the Get Paid Now option to manually withdraw your balance at any time by following the steps below.
• Go to Settings, then Get Paid
• Click the button marked Get Paid Now
• Select the amount you want to withdraw
• Click on Get Paid Now
How to Get Paid on Upwork Internationally
Upwork offers specific payroll services for international hiring. You need to determine if you are an independent contractor or an employee first. You can also select a third-party staffing agency if you want to be registered as an employee. In this instance, you become an employee of the agency until you have completed your project.
Your contractual obligations and employee rights will vary depending on the country you are living in. Upwork has five steps all clients submitting projects need to complete for international hires.
Requesting Pricing
Once you have found a project appropriate for your specific needs, your preferred currency, hourly rate, estimated weekly hours required and length of contract desired, you can apply for the project. You must also submit a description of the work you are qualified to perform and your job history to be eligible for the majority of projects.
Reviewing Pricing
You will work with an Upwork Payment Specialist. You will receive an estimated breakdown of your costs for your payment framework and the financial obligations of your country within 24 hours after placing a request with the staffing provider.
Pricing Approval
Once you have looked at the engagement details and the pricing, you can use an electronic signature to give your permission to proceed. Within approximately 24 hours, you will be informed as to whether or not you were accepted to work on the project so you can move forward.
Onboarding
Once you have given your final approval, Uplink will start the onboarding process. This includes having you sign an agreement, outlining your specific requirements, the legal legislation for the area in which you are living and any extra steps legally required by either your or the law. A good example of an additional process is a background check.
Make certain your payment details and schedule have been set up to ensure you will be able to make a withdrawal as you receive payment for your work.
Beginning Work
You will need to sign a contract through the Upwork platform and will be able to begin working from the start date you and the client agreed on. You will then receive instructions from your employer regarding logging into the system when you are working so you can be paid. Seamless communication is enabled directly through the Uplink platform. If you begin work before you receive approval, you may not be paid for your efforts.
Avoiding the Mark-Up On Exchange Rates
If you received your payment in a different currency, you will be charged an exchange rate. This can be as high as three percent of the amount you have converted. You can significantly decrease this amount by selecting from a variety of partners for your preferred method of payment. When funds become available in your account, you can then withdraw the currency of your choice at a lower exchange rate.
Your best option is to research the service partners acceptable to get paid on Upwork and select the one with the terms you like the best. You may be charged a small fee upfront when you make a withdrawal.
Setting Up a Free International Account
There are several different third-party companies offering free accounts for international users. This enables you to select your currency of choice for payment. The majority of companies offer roughly 40 different currencies. You will be charged a conversion fee when your funds are converted. The percentage varies for each company. If you need help with your taxes, accounting software you can connect to your account is also available.
Now Get Started on Upwork
In this article, we talked about getting started on Upwork, especially your payment options, and how to get the most out of getting paid. The amazing thing about Upwork is being able to work from anywhere for clients that are anywhere. The downside is getting your money in a way that lets you spend it. Hopefully, some of these ideas will help you to get started. What has worked for you?