A great way to make money online from home is to freelance. There are several ways that you can do this. You can market yourself to local businesses, hang out a virtual shingle and build a website. One easy option is to use a freelancing platform like Upwork.   To get the most out of Upwork, it's important to understand how Upwork works and how you can use Upwork as a freelancer.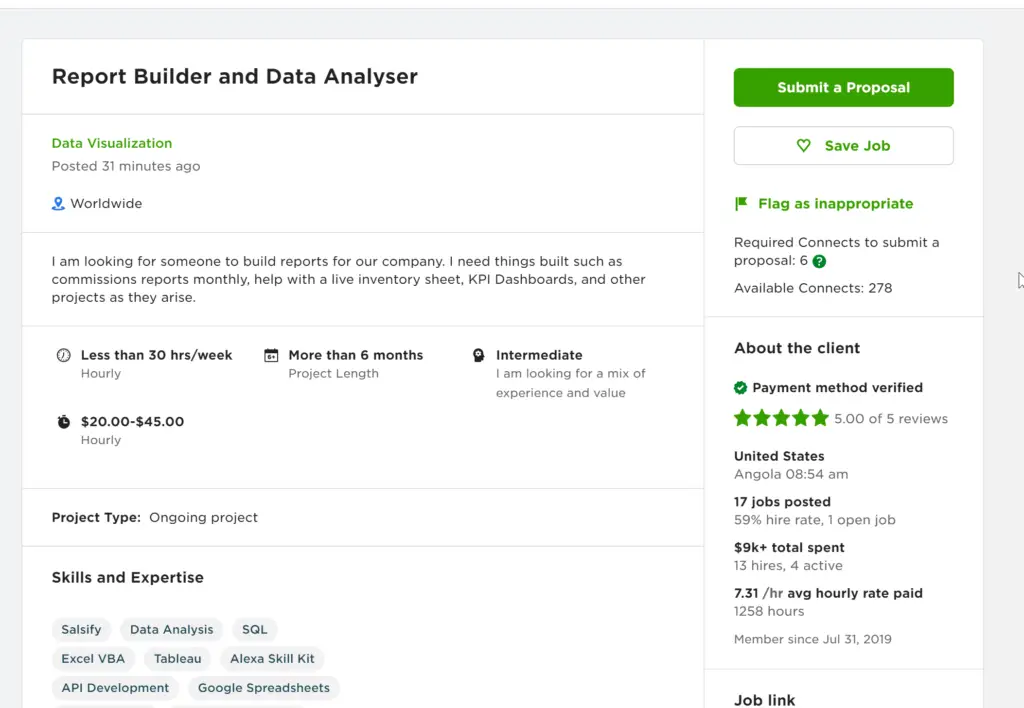 Basics of How Upwork Works
Upwork is a platform that lets people post jobs that they need completed. Freelancers then apply for these jobs.  When a freelancer is hired, they complete the work and get paid.
Jobs on Upwork that You Can Do
There is almost no limit to the kinds of jobs Upwork that you can do. Here are some common ones. Here are some common jobs on Upwork, many can be done by beginners. We're also including how many jobs with that keyword were posted on Upwork at the time of our search to give you an idea of the demand.
| | |
| --- | --- |
| Job Type | Number of Posted Jobs on Upwork |
| Creative Writing | 1,997 |
| Translation | 144 |
| Article Writing | 4,572 |
| Web Development | 5,016 |
| Video Editing | 1,590 |
| Data Entry | 2,176 |
| Graphic Design | 4,749 |
| SEO | 3,117 |
| SEO Keyword Research | 1,023 |
| Proofreading | 2,024 |
| Spreadsheet Data Entry | 242 |
These are just some examples. You can even get creative like searching for "newbie" and you'll see that there are a few dozen jobs. If you're diligent and creative, you can find work even if you don't have any experience.
Who Is Hiring for Jobs on Upwork
Companies and people hiring for jobs on Upwork, which Upwork calls clients,  can be anything from an individual to a big company.  You often don't know when you apply.  Sometimes the job posting will tell you. Other times, you can get an idea from the way the posting is written. Generally,  the more formal the posting, the more formal the client.
The type of client often doesn't matter much except that larger clients tend to be more formal. They may have more requirements before hiring you. Smaller clients often aren't very good about defining or even knowing what they want. This can be a benefit and a curse.  It's a customer service opportunity but is also sometimes more difficult to work with.
There are three main types of jobs on Upwork. Two posted by clients. The last is created by the Freelancer. 
Fixed Price – with these, you are paid one price for the entire project. This is often broken down into milestones. That means that you are paid for partial deliveries of the project. So, for example,  if you are creating a website for someone,  you might get paid part of the money for setting up the site, another part when the homepage is complete,  etc. until you get paid for everything.
Hourly – On an hourly project you get paid for each hour that you work on the project.

Sometimes projects are short-term. Others are longer-term. These could even last for years. Most longer-term projects are hourly though it's common that if you do a good job a client will keep hiring you for new projects.
There is a third type of project that the freelancer creates. These are called pre-defined projects.  We aren't going to talk much about those here but these are Upwork's answer to Fiverr.  With these, the freelancer creates set projects for set prices. The client then basically shops for the type of project they want and buys them from the freelancer.
For example,  if you were a content writer you might offer a 500-word article for $25, a 1000 word article for $50, and a 2,500-word article for $135. (Don't use these prices without seeing what others are charging. They're just an example).  A client finds your posting and buys the package that they need.
As a freelancer, if your expertise makes it practical, you should do both pre-defined projects and apply for jobs on Upwork. It only takes a few minutes and new business never hurts. 
Unfortunately,  Fiverr's marketing has convinced clients that they should be looking for great projects for a cheap rate ($5).  Even on Fiverr, that isn't true. What a lot of people do is to price a basic, easy package for cheap and then they try to upsell for more. This strategy can work.
If you have a product or service that is quick or easy to replicate and sell, this can be a good approach. Unfortunately,  it doesn't give you the same chance to sell yourself as projects posted by clients. It isn't as likely to earn you as much money. For the right service, though it can be a good way to make money.
Building your Profile
The first step for you as a freelancer on Upwork is to create a profile. When you look at how Upwork works, this becomes really important because your profile serves two big purposes for you.
Marketing – Your profile is what a potential client looks at when they are deciding whether or not to hire you. It's your CV or resume on Upwork and is really important.
Search Engine – Upwork is a search engine too and a good robust profile,  like any SEO ensures that you show up in more results.
You want a good, solid profile that shows what you can do and your experience. When you first get on Upwork, you want to add some projects and testimonials for things you've done before Upwork. You can do this in your portfolio. Then, as time goes on, your profile will show the projects and reviews for projects on Upwork.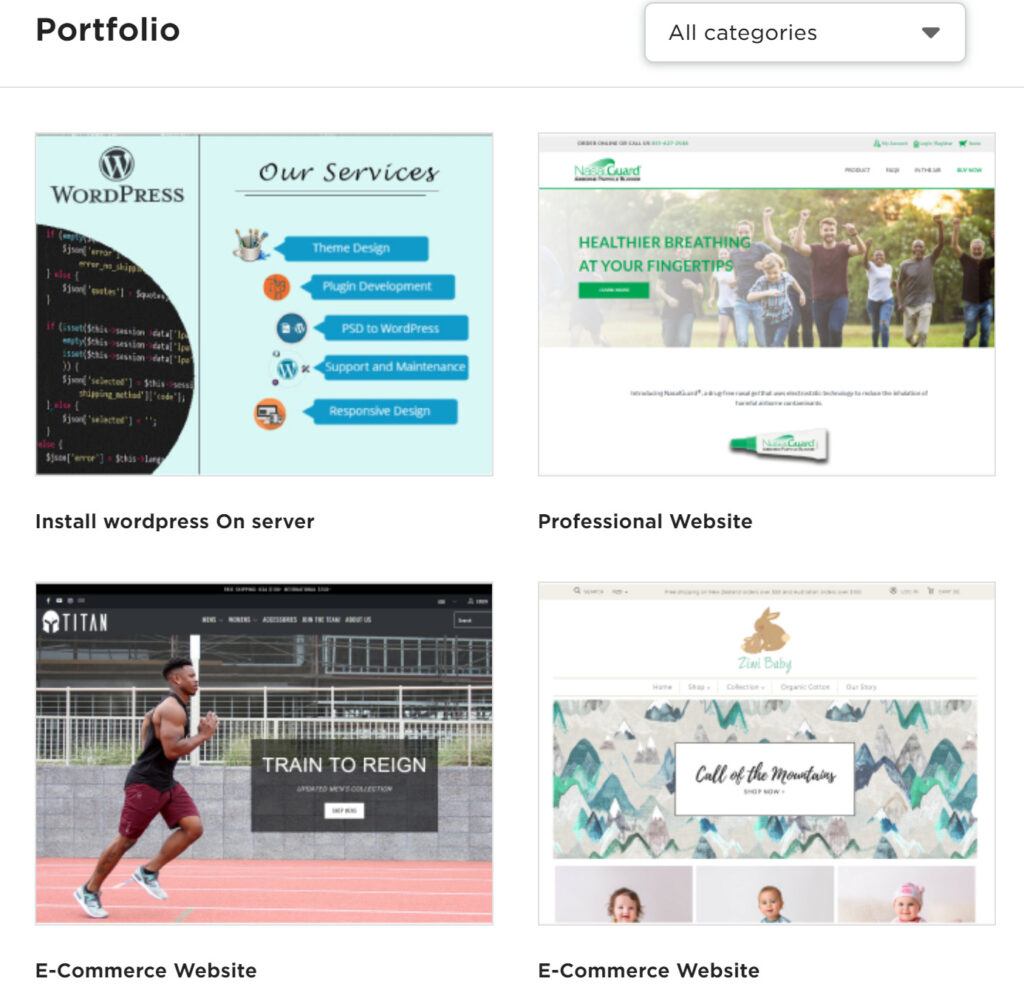 Reviews are really important. Early on, you want as many good reviews as you can get. That's part of the first impression a client gets. They may have 50 applicants for a job. Great reviews make their choice easier.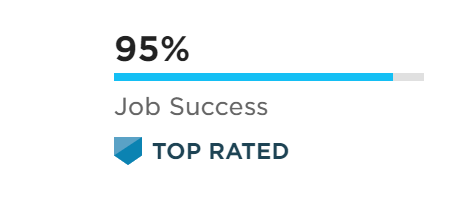 In your experience, try to include as many keywords as possible of what you think potential clients will search for or write in a job posting. You'll have a chance to select the knowledge, skills, and abilities that you have. Fill these out as completely as possible.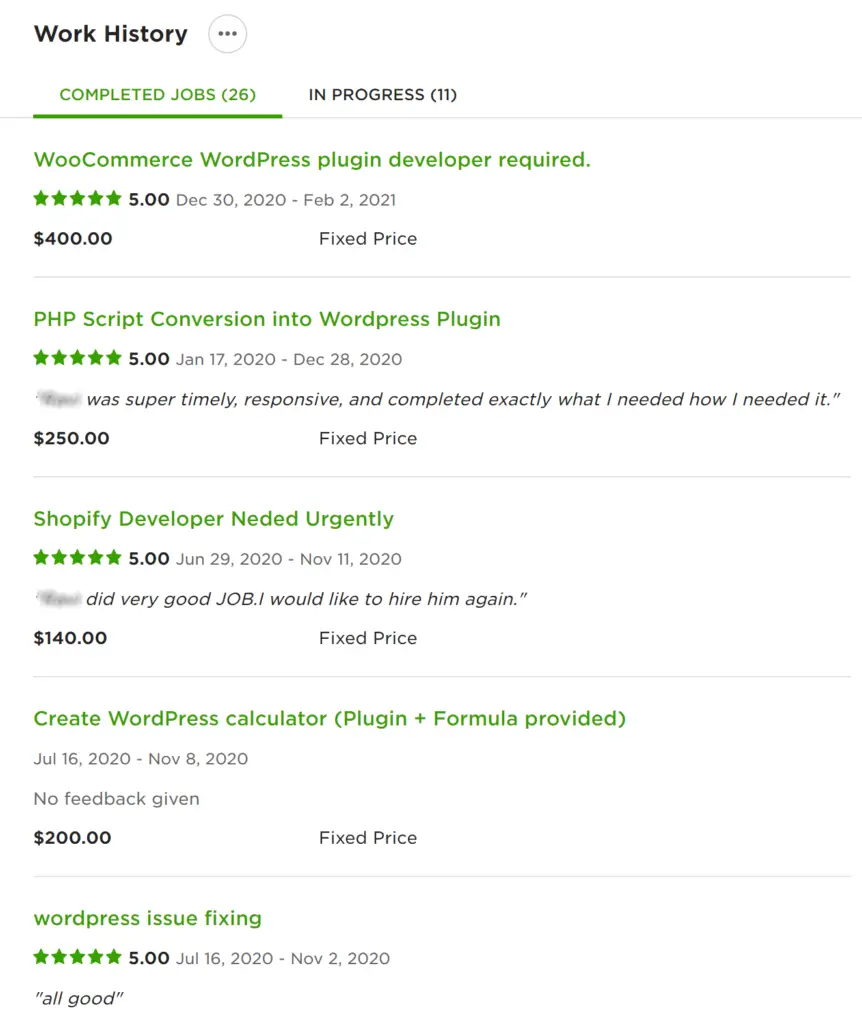 When a client is done posting a job, they'll be offered a selection of freelancers to invite to interview. You want to be one of these freelancers. You will be notified when they do that and you'll have a higher opportunity to apply and interview more quickly. Freelancers who apply in the first two hours after a job is posted have a significantly higher chance of being hired.

Knowing these tips, having a complete profile, and knowing how Upwork works will help you get more jobs on Upwork, earn more money and be able to charge higher rates eventually.
Using Profiles on Upwork
In addition to your main profile, you can also build other profiles. You should build other profiles. Say, for example,  that you do content writing. You may also be able to offer proofreading, on page SEO and translation services. While these all are related skills, someone searching for them may be looking for different things.
Upwork, allows you to build different profiles. Basically, each profile lets you focus the keywords and experience on an aspect of your skills. In your translation profile, you might talk about being fluent in four languages and how you've translated over 200 documents. You night talk about your SEO results in the SEO profile. You get the idea. Each is a different marketing document with a different focus.
When you apply for jobs on Upwork, you can pick the profile that's most appropriate. This helps to focus your client's focus where you want it.
The Process
We will discuss some of the specifics in more depth but to get the most out of this, it helps to have a good overview of the Upwork process first. Then we can dig into some of the specifics of how Upwork works so that you can use some of these strategies to get more work.
You have a complete profile built. Here's what happens from there.
Client Posts a Job – A client posts a job that describes what they need, how much they want to pay, and their time-line.
The Freelancer Searches for a Job – Using Upwork's search engine, you look for jobs on Upwork that they are qualified for.
Freelancer Applies for a Job – Once you've found a job, you submit a cover letter. Upwork will also send the profile of your choice.  In your cover letter, you have a chance to ask questions, make points or highlight your qualifications. The client may also have set questions to ask each candidate.
An Interview – The client picks the finalist(s) to interview. This can be everything from getting notified that you're hired to an in-person interview. The most common is a form of messaging back and forth on Upwork's platform. The client can now do a Zoom and voice call on that platform.
Offer – The client will offer the selected freelancer the job. This will include the terms (usually what was originally posted) a price and a timeline.
The Job – The freelancer will do the work,  usually coordinating with the client on Upwork's platform using their messaging app.
Submitting Milestones – For fixed-price jobs on Upwork, the freelancer will submit any milestones as they finish them. For hourly jobs on Upwork, the freelancer will get "paid " each week. (There is a catch)  Once the client
Finishing the Job – You submit the final milestone. The client approves it and then closes the job.
The Review – This is really important for future work. You need to get that review. Remember that it doesn't show until you review the client.
Once that is done, start the process again for more work. Let's talk about each of these steps in more detail. It's important that you understand how Upwork works and how to get the best jobs on Upwork to be able to make more money online with Upwork.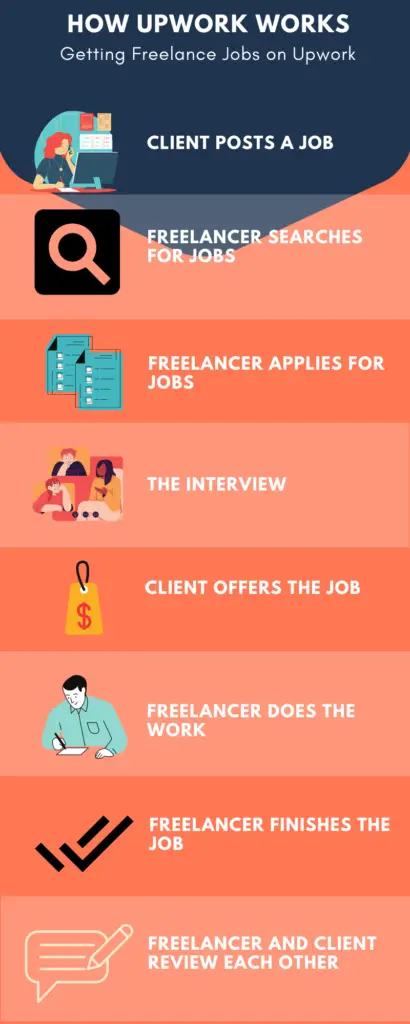 Finding Jobs on Upwork
Upwork has its own search engine. It will try to recommend jobs that you're interested in. You can search for jobs on Upwork in your country or anywhere. For freelancers in more expensive areas like Europe, Canada, and the US it's worth using this selection. For freelancers outside those areas, however, it's worth not using it. For these freelancers, you want to work from these areas because it will pay you more.
You can search for keywords or let Upwork's search engine do its thing based on your profile. You want to try both. You want to find the best jobs on Upwork for your skills and price range.
To start off, as we point out in our guide to getting started on Upwork, your focus initially should be more on getting jobs on Upwork that you can do well. Don't focus initially on high-paying jobs on Upwork. Nothing wrong with taking one,  but your initial focus is on showing successfully completed jobs on Upwork and on good reviews. These will get you hired more.
A good strategy is to start at a lower price, but don't lose money. Your offer should be a good deal for the client but not so cheap that it makes them leery of hiring you. Your focus should be on getting projects and doing a great job. Higher pay will come later. You want the social proof that comes with great Upwork reviews and projects completed.
For experienced freelancers,  this can be frustrating. If you consider it from a client's point of view, if they have 20 applicants and you are the only one who can't prove they can do the work through good reviews by other clients and through successfully completed projects,  why should they hire you?
 Make them want to hire you on Upwork with a great offer and amazing service.
Applying for Jobs on Upwork
Once you have found the right jobs on Upwork for you,  it's time to start applying. Obviously,  this is really important. Bad applications mean that you don't get hired.
In addition your profile, your cover letter is really important. When you're starting out, you won't have any work on Upwork to show so potential clients have to take your word for your experience. This means that you need to convince them that you are the best candidate. 
You want to use your cover letter to highlight that you're a great freelancer and a great hire. Here's how you can do that
Don't Use a Template – A lot of freelancers get lazy and use a template. This can be tempting but clients see it for what it is. It shows that the client is important and they're a number. It tells the client that the freelancer sees all projects the same. They want to be unique.
Show that You Read the Job Description – You can do this either by asking questions about the job or by telling them about projects that were similar.  You can also offer suggestions if you have a better way to do something, or other ideas.
Offer Proof – If you can, show them proof of previous projects. Never disclose something you don't have permission for but when possible, upload previous work product, testimonials, or offer links to online work.
Your cover letter is a chance to stand out. It can also be a path to a conversation which is one step closer to being hired.
Asking questions in your cover letter, will get some cljents to reach back out to you to answer the questions. Now you have a dialog going. With that, you have a great chance to show what you can do. You can even offer to have a conversation to discuss more information.
Connects for Upwork Applications
To keep you from spamming clients,  Upwork has a system of credits.  Each application costs a certain number based on the project. It's usually between 1 and 6 depending on the type of project. These credits are called contacts.
When you first sign up you get 40 connects. You can get 40 more for taking Upwork's Readiness Test.  When you first start you will likely be applying for a lot of projects so these may go quickly. You can buy more at 15 cents each. You'll also get 10 per month for a free account.
They're not expensive if you're making money but we don't want a freelance job costing money. Here's how you can get the most out of what you're given-
Get Jobs – Well of course that's what we want.  The point here is to apply for jobs on Upwork you have a chance at. Early on, it's the same advice of applying for jobs that you can do well at. Jobs themselves don't give you any connects (other than the interview) but they earn you money to buy more.
Get Interviews – You need interviews to get jobs but for each interview you get, you also get credits.
The credits aren't expensive but the goal here is to make money online without spending money first.
Deciding on Price
When you start applying for Jobs on Upwork, you have to include a quote. You'll either need to include an hourly rate or a quote for a fixed price project. With fixed-price projects, you may also want to include milestones and prices too.
When you first start applying for Jobs on Upwork, it can be difficult to figure out your price. Remember that early on, your goal is successful jobs and great reviews but you can make money too.  Your goals is to give clients a good value and slowly raise your rates.
Here are some tips to get you started:
Start with the client's price – Clients have to include a price when they post the job. This is a great starting point. Some clients will lowball these prices. Some will post even higher prices than you would have bid. Others will post a really low price like $5 as a placeholder because they don't know what to bid. Their price is a good starting point.

What Established Freelancers Would Charge – Initially, to build referrals and social equity through reviews, you want to offer clients a good deal.  However, don't charge so little that they don't value you.  Have an idea of what your market charges.  There will always be someone who is looking for a lot of work for no money. That's fine except that often someone who wants everything for nothing is often a difficult client and not a good reference anyway.
How much work it will take – Even when starting out, have some respect for your own time.  Offer a good deal and do great work, but have respect for yourself.
There's no magic answer for how much to charge on Upwork.  Every specialty and project is different.  These should get you started.
Fixed Price Projects Versus Hourly Projects
Every specialty is a little bit different here.  The important point is to make sure that you and your client both understand these three things:
How long the project will take
How much it will cost
What is being delivered.
As long as you are both clear on these things then the project should go well.  The hard part is that a lot of clients are perfectly clear in their own minds what they want, until you start asking them. Then it's suddenly not so clear.  As long as you do this before the project starts, that's fine.  It's when you've already done a bunch of work and find out it won't do what they need that it's really frustrating.
On hourly projects, always provide the client with an estimate of billable hours.  Initially especially, do more work for less time when you can. 
Never charge a client to learn. The only exception to this is if the nature of the project is a trial and you both know that going in.  If you're conducting an experiment or trial and you aren't sure if it will work, and the client agrees, then charge them for the time.  The client is paying for expertise, so even if you aren't sure how to do something learn on your own time.  It's okay to learn on a project but don't bill the client.
Interviewing for Jobs on Upwork
When the client selects you as a potential freelancer for a project, they will have a chance to interview you. This can be everything from just reading your cover letter, to asking you questions to an actual virtual meeting. Most of the time, it's a few questions but it really varies by client and project.
Upwork's rules say that the interview should be on their platform. They offer a messaging app, which is pretty good. You can also do an audio call, video call, or Zoom meeting over it.  The audio calls are mediocre and can be frustrating.
Occasionally,  a client will ask for a traditional phone call or meeting.  To get work, it's worth doing but make sure you clearly recap on their platform.  It's also okay in your cover letter to ask questions or to ask for a meeting to discuss their needs. Many job descriptions are vague and it isn't clear what the client needs.
After the interview,  sometimes you'll find the project is different than what you expected. You can amend your offer. 
In the interview, you have a chance to show that you understand and can do the job. This a great opportunity to get work.
To actually get the job,  the way that Upwork works is that you need an offer from the client. Typically,  that's as simple as accepting your proposal and send it to you as an offer. The offer is important because it's how and what you will be paid and the work is expected.
You'll receive the offer both via email and via their messaging platform. Read through it and make sure it matches what you expected. If it does, accept it and get started. Do not start work without an accepted offer because the client isn't obligated to pay you without an accepted offer.
How Upwork Manages Hourly Projects
When you are doing hourly projects, Upwork has an app that will time you.  It also takes periodic screenshots and tracks what apps you are using.  For computer based work, basically it monitors you and gives your client periodic reports.  The good news is that the way that Upwork works is that they will help mediate if your client doesn't like your billing.
If the client allows it, you can add manual time to your timesheet but Upwork doesn't commit to helping if the client contests it.  Every client is different, but make sure that you and your client are clear on how they want you to manage and bill your time.  Either way, Upwork prevents you from logging time that overlaps.  You also can't log time in the future.
At the end of each week, Upwork will send you a notification that your timesheet is ready for review.  Your client gets a similar message.  You each have a day to review and make sure your time is accurate.  They then bill the client.  You will get paid in about a week, but we'll talk more about that in a bit because there is a catch.
How Upwork Works with Fixed Price Projects
With fixed price projects, you and the client determine how the pay will work. For smaller projects there may be only one milestone which is the final project. For larger projects, there may be multiple milestones.
When a milestone is complete,  you submit it via Upwork to the client. You'll have a chance to upload any files or provide any proof that it's complete. It's a good idea to do that even if you've already provided it to the client. This provides Upwork with evidence that you completed the milestone in case of any dispute.
Once you have submitted a milestone and the client approves it,  you will be paid. Then the client can activate each milestone. When a milestone is approved, Upwork collects the payment from the client and saves it in an escrow account.   For freelancers, this reduces the chance of a client cheating us out of payment.
They don't do this for hourly projects because they don't know what it will pay. They do have a payment method saved for hourly projects. Upwork will suspend a project if there's a problem with payment.
Working With the Client
While you're doing the work, keep the client updated on your progress. If you won't make a due date, tell them. Make sure they know what to expect. When you can, show them evidence of your work.
You want to get feedback as early as possible to avoid having to do extra work. Clients love the communication and they appreciate honesty,  even if it's bad news. You can't change the news so better to be honest and manage it.
Keeping the client engaged and showing that you are doing the work will keep them happy and hopefully get you a good review.
When you are done with the project, before you close it out, don't be afraid to ask for a good review.  If the project didn't go well, maybe you don't but otherwise let them know what it means. There is nothing wrong with closing out a project and saying something like "I've really enjoyed working with you. If you can do so honestly, I'd really appreciate a good review. It helps me get future work."  Some clients don't realize what a review means. Let them know.
You need to make sure you review the client too. Otherwise, the review won't show up on your profile.  Remember that you can see client reviews before applying too. This can be helpful because a client with bad reviews may be difficult to work with.
None of this can happen until the project is closed. That's different from submitting the last milestone. After the last milestone,  you or the client can close the contract. Make sure you do. You or the client can add more milestones even after the last one is submitted.
Even if the client asks for more work (fantastic!) early on, ask them if they mind doing it on a new contract. Be upfront,  you are just getting started on Upwork and good reviews help you out. An existing client is more likely to give you a good review on a new contract. Don't turn down work, certainly,  but it's worth asking.
How Upwork Pays
We've talked about payment a few times but Upwork has some aspects of how Upwork pays that you should know. If you don't know how Upwork works for payment there are some things that could frustrate you.
How Upwork Makes Money
For the client,  Upwork charges a 3% fee when they take payment. That's not huge but worth knowing it's there.
The big part we care about is that Upwork takes a 20 percent commission of what a freelancer makes from a project (including any tips or bonuses you get).  So, when you make $100 you actually keep $80.

This number goes down the more you make from a client. After $500 of total earnings (which includes all projects) they take 10 percent.  It goes down from there so after a while with the same client, you make more.
This seems like a lot of money,  and it is, but we don't have to do any marketing, bill collecting, etc. Upwork is a great way to start making money online without  spending any money upfront. We can start making money right away which is good.
The other thing to know about how Upwork pays is that they pay you once per month on the assigned scheduled withdrawal date.  Each time you get paid by a client, that money goes into an account on Upwork. They pay it out to you once that month.  If you want to get paid earlier, you can but they charge you for that.
This is important when you're trying to make money online. Make sure you plan your budget. If this is your only income, that can be difficult.
Payment Methods
Upwork offers you several payment methods. These may vary by country. Here are the payment methods offered and any fees. Note that the fees don't include any charges for services. For example, PayPal often charges for various services. Also, the dates don't include any delay in the payment services.
Method
Fees
Direct to U.S. Bank (ACH)
Free
US Banks Only
Direct to Local Bank
$0.99 per transfer
Your bank may charge fees too. Works with major banks in most countries but there are limits for many countries
U.S. Dollar Wire Transfer
$30 per transfer
Non-US banks may charge a currency exchange fee
Instant Pay for U.S. Freelancers
$2 per transfer
US Based only and must have Visa or Mastercard associated with your account
PayPal
Check PayPal fees. These do change from time to time
Payoneer
Check Payoneer Fees
M-Pesa (Kenya only)
You must use your own registered M-Pesa account
M-Pesa typically has maximums of 70,000 KES per transaction and 2 transactions per mobile device per day. Their maximums may change at any time and without notice; please check with M-Pesa for their most current maximums
Benefits
It's worth it to know why clients and freelancers use Upwork. The fees and payments can be a disadvantage. If you look at them as a cost of acquisition they are often cheaper and faster than advertising yourself.
Benefits for Clients
For clients, Upwork provides one worldwide market where they can find expertise without spending a lot of time and money recruiting. They can easily hire someone for one project.
Upwork also does the payment and tax work for them.  This makes better use of their time.
The way that Upwork works with mediation and escrow helps to ensure that the client gets what they are paying for. This mediation service is worth the cost of admission because it provides some insurance for a client from being cheated by a dishonest freelancer.
Benefits for Freelancers
Besides providing work for freelancers, Upwork handles the advertising and billing. These tasks alone can take time and money that the freelancer can't bill for. You will still spend some time going through job postings and searches but after a while you will get that down to a process.
The same mediation services that benefit clients also help freelancers. This helps to ensure that we get paid.
Upwork Works a Bit Differently for Freelancer Plus Accounts
Upwork offers an account upgrade called Freelancer Plus. It costs about $15/month. Early on it probably isn't worth it but once you start making money it can be useful.
You get more connects each month to apply for jobs on Upwork. This helps you save on buying them. Once you get going, the connects with the subscription are probably enough. It's 80 extra connects per month, so that's 10-20 job applications per month. That number varies based on what you apply for.
You also get a custom URL for your account. Not a big deal, but it makes it easier and cleaner to include as a link or give to a potential client.
The real benefit though is that with this you can see the range of bids on a job. This can be really useful in a couple of ways.
Deciding Whether to Bid  – When you see how many bids are in for a project and the range of the bids, sometimes it's not worth applying. If the lowest of the range is way below what you would bid, you may not want to bother. You're not likely to get the work.
Making You More Money  – Sometimes,  the bottom of the range is higher than what you would have bid. In this case, first reread the description and make sure you didn't miss something. If you didn't, bid a bit higher than you would. Especially once you get going,  you can often get hired if you're not the cheapest. You probably don't want to be the most expensive. If you bid higher than what the client wanted, you might want to explain why in your cover letter.
You also get a few more reports but the real power is in seeing the bid data.
Taking Work Off the Upwork Platform
Sometimes, a client might want to take work off of Upwork. You probably don't want to do this on the first project if you found the client on Upwork. Mainly it's just dishonest and if you get caught Upwork will kick you off.
Also don't get paid for work outside of Upwork if you negotiated the project on Upwork. You may get caught and, again, it's just dishonest.
Once you have a relationship with a client outside of Upwork then that may be a good time. Remember a few things though
Still make sure you're both clear on the project
Know how you're getting paid- This is doable but make sure you know how the client is going to pay you.
You don't have Upwork protecting you
Outside of that, you can make more money and the client can save money. However, you both lose out on the benefits of Upwork.
Other Freelancing Platforms
There are other platforms out there. They all work slightly differently but have a similar concept. Many of these strategies will probably work on the other platforms but they are proven on Upwork and the way that Upwork works is different for these platforms.
Here are some to check out. You could do work on any or all of them. Just make sure that you can manage your time if they all work.
Freelancer – This very similar to Upwork.
Fiverr – This platform is very different. Here you post packages for work that you will do. Because of the competition,  it's often a race to the bottom on price and it's difficult to make as much money.
TextBroker – This platform is only for content services like writing and translation. They offer a variety of levels of service and so you don't need to be a language expert to get work. You also don't need to put as much work into your profile because of the way that it works.
Knowing How Upwork Works
Hopefully,  now that you know how Upwork works you can get started making money online. It's a great place to start making money freelancing without having to spend money getting started.
Once you start making money on Upwork, then you can have some money to invest in creating your own practice outside of Upwork if you want.